Crofton Ridge In Kalkaska's Beautiful Boardman River Valley

Kalkaska Michigan Travel & Recreation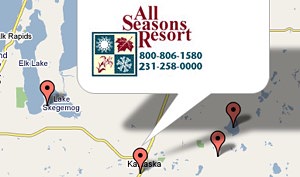 New Lodging Guide With Locator Map


Welcome To Kalkaska
With over 80 lakes and 2500 miles of rivers and streams, the Kalkaska area draws sportsman and outdoor vacation enthusiasts from throughout the midwest.

The headwaters of the Boardman River begin in and around the village of Kalkaska and the headwaters of the Manistee and Rapid River are nearby.

These blue ribbon trout streams are the reason for the celebration of the National Trout Festival, held every year during the first week of April.

Snowmobiling is the sport of choice in the winter in the Kalkaska area. Groomed trails lead west to the Traverse City area and north and east toward Mancelona and the Gaylord area, offering snowmobilers hundreds of miles of some of the best trails in Michigan.