Elk Rapids and Antrim County Travel & Recreation
The village of Elk Rapids is one of the most charming of all the many harbor towns in Northwest Lower Michigan. Located just north of Traverse City on East Grand Traverse Bay, Elk Rapids, with its modern marina, offers a welcome refuge for boaters on the waters of Grand Traverse Bay and Lake Michigan.

Elk Rapids is also a refuge for the land-loving tourist travelling US-131 between Traverse City and Charlevoix. Its secluded downtown district with many unique, upnorth shops and restaurants make Elk Rapid a don't-miss destination for that complete Northern Michigan vacation experience.

Those looking for a little outdoor fun often use Elk Rapids as their gateway to recreational opportunities throughout Antrim County. Northern Michigan winter enthusiasts will find downhill skiing at its best on the slopes of Schuss Mountain and Summit Mountain at Shanty Creek Resorts. Great water and great beaches also abound. Choose from the "Big Water" of Grand Traverse Bay and Lake Michigan or follow the Elk River into Elk Lake and through Torch Lake and the rest the Chain of Lakes in Antrim County.

And if golf is your bag, the Elk Rapids area has some of the best golf in the Midwest, with Jack Nicklaus' "The Bear" at the nearby Grand Traverse Resort, Arnold Palmer's "Legend" at Shanty Creek, as well as A-Ga-Ming Golf Resort near Kewadin, Antrim Dells near Charlevoix.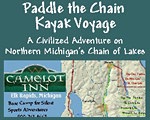 Enjoy a Kayak Tour
on the Chain of Lakes!